The installation process of Report Builder is quite simple and straightforward, and shouldn't cause you any troubles at all. Independent of your previous experience with WordPress plugins, you aren't likely to have any problems, just follow these simple steps:
1.Download the file from our TMS Store
Once you purchase Report Builder, you can download the ZIP file from our TMS Store  or from the email that you received when you made the purchase (some hosting providers treat it as Spam, so please check your Spam folder as well). Also, you received an email with credentials for our TMS Store where you can download Report Builder to your computer. The ZIP file contains the current version of Report Builder. Download it to your computer.
2.Upload the plugin to your WordPress
There are 2 ways to do this:
Option 1 (easier) open your WordPress admin panel, go to Plugins -> Add new -> Upload and choose the zip file that you downloaded from TMS Store.

Option 2 (if first one doesn't work) – Unzip the file that you downloaded from TMS Store. Open your WordPress installation folder in some FTP manager (CyberDuck, FileZilla, Total Commander, or any other), go to wp-content/plugins/ and upload the folder that you unzipped previously.
3. Activate the plugin
In your WordPress admin panel go to Plugins, find Report Builder for wpDataTables and click "Activate". Voila, plugin installed!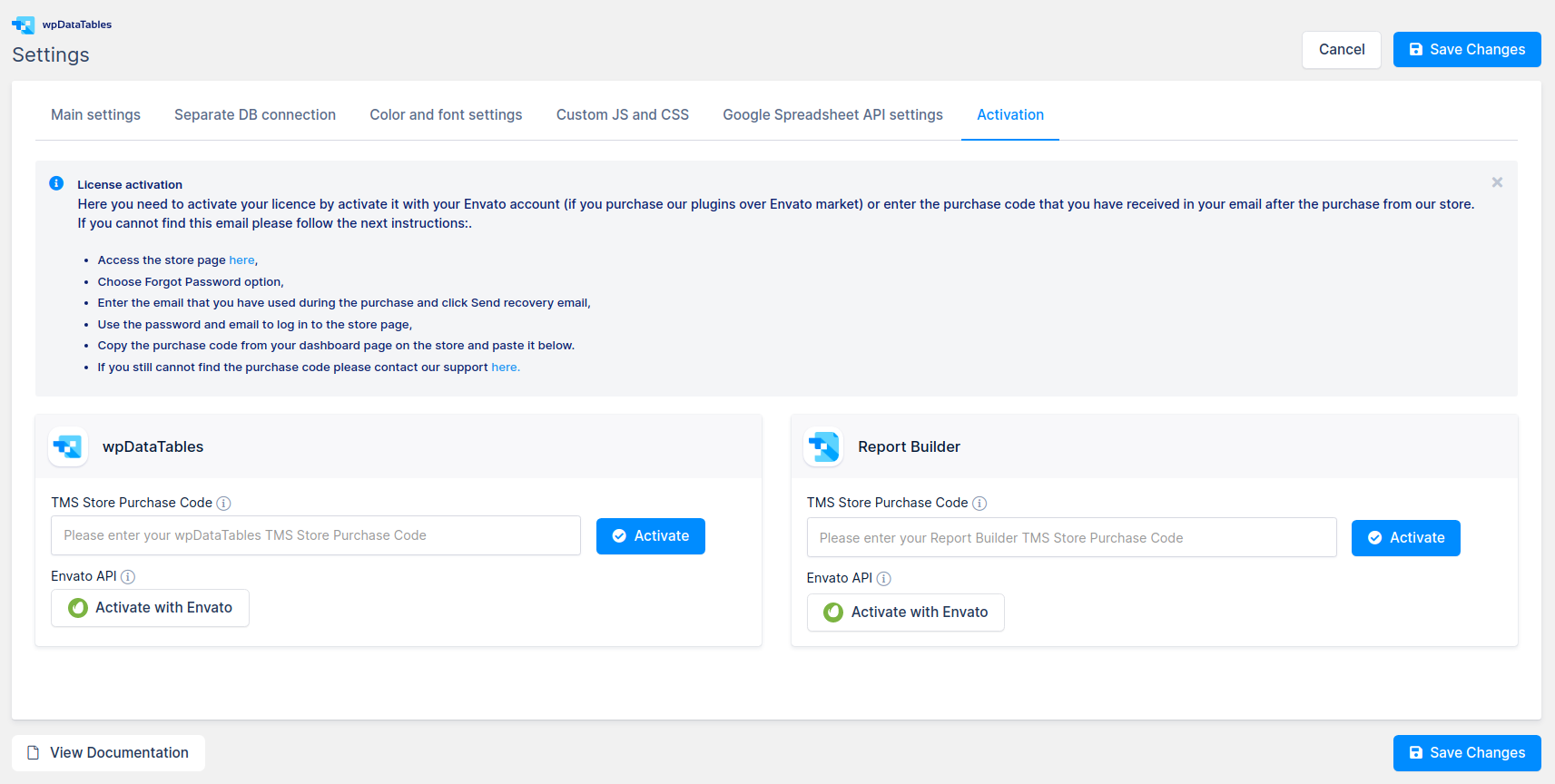 The plugin should notify you about new versions automatically, and update itself if you've entered the Purchase Code in its designated field in plugin's Activation Settings page. You can see the Purchase Code in the e-mail you received if you purchased the plugin through our website. It can also be seen in our TMS store. Log in credentials for the store were also sent in the same e-mail.
If you bought the plugin through Envato marketplace, you need to leave the "Purchase code" field blank, and just click on the "ACTIVATE WITH ENVATO" button. It'll take you to the login page, and activate the plugin (you need to be logged in on Envato with the account used to purchase the plugin with).
Upon activation, you still won't be able to update it right away, simply because WordPress is doing these activation checks a few times a day – it's not an automated process. So, if you're able to activate it, but unable to update it, just wait a few hours and try again.
When downloading the new plugin version from our TMS store (if you purchased the plugin through our website) or from CodeCanyon (if you made the purchase through Envato marketplace), please follow these steps to update the plugin manually:
1) Use FTP to open /yourwordpressfolder/wp-content/plugins.
2) Delete the existing Report builder folder.
3) Upload previously downloaded Report builder folder through FTP to the "plugins" folder (unzip it).
4)  Go to WP-admin panel, open the Plugins section.
5) Deactivate Report builder Plugin, and activate it again.
6) Clear server and browser cache